Bonjour,
Grande nouvelle pour les amateurs de ces bibles (c'est pour eux comme si un nouveau testament voyait le jour ...
): nouvel opus 4 pour Mars 2019
Commentaire de Christer Bergström sur sa page FB:
"The work on Black Cross/Red Star, Vol. 4 is making very good progress. Apart from the final chapter (the usual "Conclusions" chapter), the manuscript is about 95 % completed. I have very many very, very exciting things in this new volume! It is much more detailed, and with many more personal accounts etc, than in the previous volumes, and it will also be about 25 % larger (i.e. the amount of text).
I will visit the Bundesarchiv in Germany between 14 and 18 January for a final round of research, and then I will put everything together. After that I will send it to one of you who so kindly has offered to check the English language, and then it's layout (which will take about two weeks) and printing (which will take about four weeks). So I think a release in March 2019 seems to be realistic.
While the language in the book is being checked, I will have the aircraft color profiles done, I will select the photos for the book, and have the maps made.
I think you can have high expectations on this one!
If possible, please ask your local book store, the specialist book stores that you know, etc, if they are interested in taking in a couple of copies. Please contact me at
vaktelforlag@gmail.com
and give me the contact information (preferably e-mail) to those stores etc.
After Black Cross/Red Star, Volume 4, I will do Black Cross/Red Star, Volume 5, which is 60 % completed, so that you can expect it to be published about one year from now. Volume 5 will cover the period April 1943 through August 1943."
http://vaktelforlag.se/produkt/black-cross-red-star-air-war-eastern-front-volume-4-stalingrad-kuban-1942-1943/?fbclid=IwAR0Q-5px65mvbBwOi4ow3ZEiLM3tVcaUK49Z6UrDnhUnhEc_B0d-6RO03GE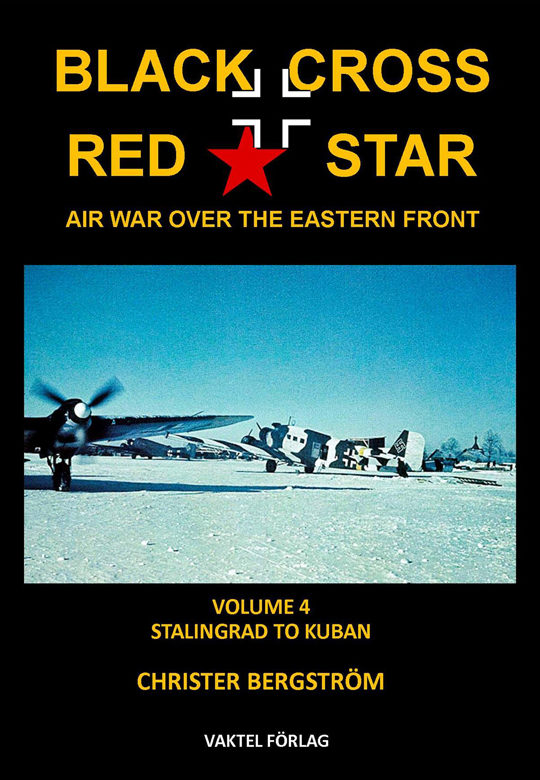 "Will be published in March 2019!
Regarded as the standard work on the air war over the Eastern Front during World War II, Christer Bergström's unique Black Cross/Red Star series covers the history of the air war on the Eastern Front in close detail, with the perspectives of both sides. Based on a close study of German and Russian archive material, as well as interviews with a large number of the airmen who participated in this aerial conflict, it has established itself as the main source on the air war on the Eastern Front.
Black Cross/Red Star, Volume 4 will cover the air war along the entire Eastern Front during the period winter 1942/1943 through June 1943, in great detail, with a balance between German and Soviet archive sources etc, and with many first-hand accounts. It will be of the same size as the other volumes, and it will also contain aircraft color profiles.
Following the publication of Volume 4, new and heavily updated editions of volumes 1, 2 and 3 will follow, and next the subsequent volumes (vols. 5 etc.) will follow."
Il avait parlé d'utiliser du crowdfunding pour donner naissance à ce volume 4 (voir
http://www.bergstrombooks.elknet.pl/bc-rs/
), je serai curieux de savoir s'il a eu et fait appel à ses 125 "fondateurs" ...
Cheers,